---
10 Questions You Must Ask Your Doctor
How to make better decisions about drugs, tests and treatments. By Ray Moynihan and Melissa Sweet
Covering everything from tests, to drugs, to lifestyle issues, Ray and Melissa give us all the questions we need to ask when we visit the doctor, the chiropractor or even the naturopath. So no matter whether you have a child with an ear infection, you've been told you have high cholesterol, or that you need a CT scan or surgery, here is the guide that will help you make better decisions for you and your families.
Professor Rachelle Buchbinder, Monash University: "Every home should have a copy of this book which provides practical tips about how to receive the best health care."
Publisher - Allen & Unwin
Reviews and related articles - Listen to an interview with Ray about the book on Radio National's Life Matters program.
---
The Big Fat Conspiracy
How to protect your family's health.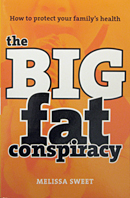 So many aspects of modern life conspire to encourage weight gain. The world is facing an obesity epidemic which presents serious threats to our health, now and into the future.
The Big Fat Conspiracy: How to protect your family's health gives you and your family the tools you need to resist the big fat conspiracy of modern life: awareness, understanding and plenty of practical advice. It will help families to make healthy changes in their lives, and offers many useful tips for eating well, moving more and promoting children's health and wellbeing.
It is also packed with suggestions for how schools, health professionals, governments, businesses and community leaders can help create healthier environments for children and families. It promotes understanding and empowerment – not guilt and blame.
Publisher - ABC Books
Reviews and related articles - Internet review
- Sun Herald Article
- Australian Physical Activity Network
- Aust NZ Journal of Public Health
This book is now freely available on line for educational purposes.

---
Smart Health Choices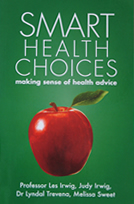 Every day we make decisions about our health - some big and some small. What we eat, how we live and even where we live can affect our health. But how can we be sure that the advice we are given about these important matters is right for us? Many treatments and tests - both mainstream and alternative - are not supported by good evidence and some widely used treatments are actually harmful.
Whether you are considering having surgery or taking vitamin supplements, you need to know the effectiveness of the options and their side-effects. This fully revised and updated new edition of Smart Health Choices will provide you with the tools for assessing health advice, whether it comes from a specialist, general practitioner, naturopath, the media, the Internet, or a friend.
It shows you how to take an active role in your health care, and to make the best decisions for you and your loved ones based on personal preferences and the best available evidence.
The authors are: Professor Les Irwig, Professor of Epidemiology at the University of Sydney, and an internationally renowned authority on evidence-based medicine; Judy Irwig brings the perspective of the health care consumer; Dr Lyndal Trevena is Senior Lecturer in the School of Public Health at the University of Sydney, a member of the Sydney Health Decision Group and an experienced General Practitioner; and Melissa Sweet.
Some comments about this book:
"Knowledge is power and power is what consumers need in healthcare. This book gives it to them." - Dr Norman Swan, ABC Radio's Health Report.
"I wish all my patients would read this book. It encourages a sceptical but positive attitude to medicare care, and encourages patients to be wise consumers. Read it, find a doctor you can work with, and together make the best of your healthcare." - Dr Paul Glasziou, Professor of Evidence-Based Medicine, University of Oxford, UK.
Publisher - Hammersmith Press
Website - http://www.health.usyd.edu.au/shdg/resources/ebooks.php
Reviews of first edition - http://fampra.oxfordjournals.org/cgi/content/full/18/2/239
- http://ebn.bmjjournals.com/cgi/content/extract/4/3/72
Order from Amazon.com - Smart Health Choices